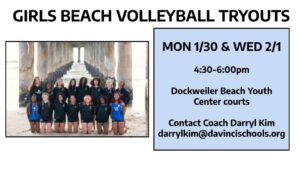 Beach Volleyball try outs are here!
Monday 1/30 and Wednesday 2/1 from 4:30-6:00PM
@ Dockweiler Beach Youth Center Courts
Please contact coach Darryl Kim for more information at darrylkim@davincischools.org
*If you can't make it, please let me know ahead of time. Please arrive early for check-in, bring plenty of water, sunscreen, and a towel. Athletic attire is highly recommended.

The following week we will officially start our practices. Players can only practice if they have been registered and cleared through the Home Campus Athletic Clearance. Please take care of your physical exams and uploading the required documents as soon as possible.

Pioneer League Winter Sports:
Girls Soccer plays Monday 1/23 @ Juan Anza vs Torrance V 4:15PM & JV 5:45PM
Wednesday, 1/25 @ West V-3:30PM, JV-5:00PM
Friday vs Lawndale @ Juan Anza V only 4:15PM

Boys Soccer plays @ Torrance on Monday 1/23 V 3:30PM, JV 5:00PM.
Wednesday 1/25 JV/V play @ Juan de Anza at 4:30/6:00PM respectively.
Friday 1/27 Boys play Lawndale @ Juan de Anza, following the girls game. JV /V at 5:45/7:00PM.
Basketball:
Monday 1/23 all teams play @ Torrance. JV B at 3:30PM, V G at 5:30PM, V B at 7:00PM.
Wednesday 1/25 all teams play home @ WDV gym vs West Torrance at the same times.
Friday 1/27 all teams play @ Lawndale at the same times.
Archery:
The WDV Archery Team will be attending their first competition on Friday 1/27 at High Tech Archery in Fullerton!
Spring Athletes:
Reminder that you must be cleared on CIF Home campus to practice/play a sport. 
Please do not email or print out forms or leave them in the front office, they must be uploaded to CIF Home campus for clearance.
Good luck to all teams competing this week!
Marissa Crook