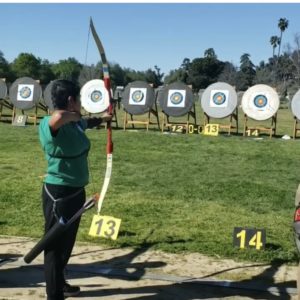 Announcements
Thank you so much for your interest in archery.  We will be holding our 2021-22 Archery informational meeting over Zoom on Wednesday, October 13th at 6:30 pm.  This meeting will be recorded.  While some of the information will be a repeat of the meeting last year there will be new important information including competition dates. We have had a huge amount of interest so we will be going over how we will make decisions on the team.  
Practice will begin Monday November 1, 2021

Practice will be on Mondays and Wednesdays 4pm to 6:00pm at the outdoor basketball courts and grass area.

Tryouts will be held Nov. 29 and Dec. 1

The official season begins February 1, 2022, and will go through the end of April

All tournaments are held on weekends and you will need to provide your own transportation (school transportation not provided)
Archery is part of the Athletic department and so all those who are part of practice will need to have both the DV Athletic Consent Waiver and the Athletic Clearance Process complete.  The physical form is part of the Athletic Clearance Process and students will not be allowed to attend the first in-person session until that is complete and uploaded to the Athletic Clearance system.  To participate with Archery for the 2021-22 school year we need you/parent or guardian to complete a few essential tasks:
Do these NOW:
Submit the DV Athletic ConsentWaiver Google Form   https://docs.google.com/forms/d/e/1FAIpQLSefdy6J0qdJVHqKJOnZvwsNcq2zXbecXtZVl13NiC1c23zPBw/viewform 
Do these as soon as you can:
Complete the Athletic Clearance Process- you can go back and upload the physical examination form at a later date, but it will be required before attending your first practice. https://www.athleticclearance.com/login.php
Complete a physical examination formwith a doctor (you will submit this on the Athletic Clearance site). https://www.davincischools.org/wp-content/uploads/2018/11/Physical-Examination-Form.pdf
Since we are overseen by Da Vinci Athletics all of these steps must be completed for you to participate with the Archery team. Please note that this year grade checks will be enforced by the athletics department and a minimum GPA will be required to continue practicing, more details to come.