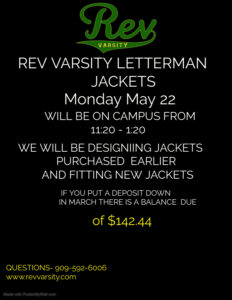 Reminder to all Varsity athletes:
Today, 5/22, the Letterman jacket vendor will be here in front of the crossfit area at the 201 campus. They will bring order forms and mock ups to give you ideas on designing your jacket. They will be on campus between 11:20-1:20pm today.
Here is a link to look over for design ideas: https://www.revvarsity.com/gallery
For information regarding your sport and earning your Varsity letter, please see your individual coach for more details!
Happy Designing Wolves!!!